According to various sources such as the WHO, Swiss federal government and the UK's NHS, I managed to compile the most important habits to adopt during this crisis:
Everyone must stay at home! This is to help stop the virus from spreading, simply put: less contact = lesser risk of contagion.
Wash your hands with soap and water for at least 20 seconds, although nothing is stoping you from washing them a bit longer than just 20.
You should only leave the house for very limited purposes: such as shopping for basic necessities such as food and doing daily exercise (which you can also do at home).
Traveling is for work purposes, but only where you cannot work from home. That is if you are an essential worker such as a policeman, a firefighter e.t.c.
Even when doing these activities and being outside, you should minimize time spent outside of the home and ensure you are 2 metres apart from anyone outside of your household.
Cover your mouth and nose with a tissue when you cough or sneeze and preferably wear a mask in public.
Put used tissues in the bin immediately and wash your hands, do not keep them in your pocket and then shake someones hand.
Do not touch your face if your hands are not clean!!!
These are just a few "effective" methods in helping to stop the spread of the virus. I will be discussing in a later posts how we determine the methods to be "effective" or "ineffective".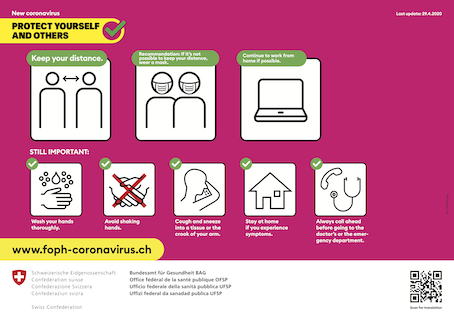 Food for thought
Are these measures really necessary?
How do people determine what actually works and what doesn't?
Why do we sometimes see differences in how countries impose these preventive methods?
Should we really take these as facts?
GOV.UK, https://www.gov.uk/government/publications/coronavirus-outbreak-faqs-what-you-can-and-cant-do/coronavirus-outbreak-faqs-what-you-can-and-cant-do [Accessed 24 Apr. 2020].
GOV.CH, https://www.bag.admin.ch/bag/fr/home/krankheiten/ausbrueche-epidemien-pandemien/aktuelle-ausbrueche-epidemien/novel-cov.html [Accessed 24 Apr. 2020].
nhs.uk, Coronavirus (COVID-19). [online] Available at: https://www.nhs.uk/conditions/coronavirus-covid-19/#prevention [Accessed 24 Apr. 2020]. ‌